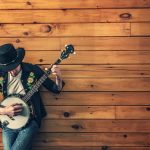 If you have a taproom, you probably have live music.
Guests enjoy the entertainment and the atmosphere it creates in your taproom. But that live music comes at a cost.
So, what are you doing to measure and improve the taproom music Return on Investment?

In this post, we'll hear from a musician who has played a lot of taprooms. He has seen what works well and what doesn't when it comes to live music in the taproom.
To help you improve your Return on Investment, we offer up these 5 Best Practices for hosting Live Music in your Taproom.
Special guest post from Matt "The Sax" Beaudin, taproom musician extraordinaire:

A View from Behind the Mic: Five Taproom Music Best Practices

Imagine that a couple walks into your taproom, excited to give your brewery a try for the first time.
They sense the aroma of mashed grain, boiling wort, soft pretzels, and spicy mustard. They see the impressive tap list, and spot a t-shirt and snapback hat they must add to their collection of brewery swag.
Then they notice the sweet strains of "Ain't No Sunshine" coming from the super hip guy in the corner with his acoustic guitar.
Live music, beer and sweet merchandise. This must be heaven.
Now, how do your new customers feel?
Much like your beer selection, taproom décor, and merchandise, the presence of an entertainer raises the level of the customer experience and improves your brand.
What may have started as a quick trip to grab a 4 pack or growler, turns into a 2 hour stay which directly leads to increased sales.
In fact, it may have been the marketing and promotion of the entertainer that brought the couple to the taproom in the first place!
Hiring a musician is a great way to drive traffic to your taproom, increase the length of the stay, establish your brand, and ultimately, sell more beer.
From a financial perspective, you should only hire entertainment if there is a Return on Investment (ROI). Once you commit to the spend, you'll want to ensure that you maximize that return.
Here are five taproom entertainment best practices, brought to you by someone who spends a lot of time behind the mic.
Payment: Do you have to pay for entertainment, and if so, how much?
It's possible that you may be able to find a musician who's willing to come in and play in exchange for some of your beer, but it's not recommended.
Am I saying that because I'm the guy who gets paid?
YES…and also no.
When you have a budget for entertainment, you're far more likely to get better quality musicians and far less likely to be the gig they cancel when a better offer comes along.
As with many other roles in your business, musicians will perform better when they feel appreciated and their efforts are rewarded, and quality is really important in this case!
Rates will vary based on the level of the musician and your geography, but $150-$250 for a 3 hour set seems to be pretty standard.
You could consider throwing in a 4 pack or a t shirt as a tip, or to help sweeten the pot for the musician (hey, we're poor, we need clothes and beer too!)
The secret here is that musicians want and need money, but it doesn't do us any good if your business suffers because of it, so let's have open conversations about what works for both sides!
Follow the Rules: Licensing
It's highly recommended that you look into music licensing as you may be subject to licensing fees. If you are already playing recorded music in your taproom, you may already be exposed to those fees and will want to make sure you're in compliance.
Finding a Musician: Who should I hire?
Naturally, you want to hire a quality musician that adds to the taproom customer experience.
The musician should excel at the craft of music, be experienced, put effort into promoting the event, and ideally be a part of the craft beer community.
A musician who loves craft beer and spending time in taprooms will be a better fit in your taproom; they will be all the more willing to promote your brand and may even be less expensive.
Check social media to see which performers are out there, and who's already playing in other local restaurant, bars, and taprooms.
Take a look at their videos and make sure the style will support the atmosphere you desire.
Don't forget to talk to your patrons; there are many musicians out there who may not immediately introduce themselves as such, but are already familiar with your space and could be a great fit.
Always start by hiring a musician for one single date, and regroup after to make sure the arrangement works for both of you.
Social Media: Get the word out!
If you're not going to promote the fact that a musician is coming to play at your taproom, don't even bother doing it!
Work hand in hand with the musician you hire to promote the event, especially on Facebook and Instagram.
Create a Facebook event (it's free!) and make sure that the musician is invited as a co-host so the event will appear on both pages.
Tag the musician in posts leading up to the event, and ask that that be reciprocated. The idea is to reach others' followers.
Consider putting up a poster in the taproom and adding a dedicated spot on your menu/chalkboard for upcoming events.
Musicians are pretty good at promotion, it's how we get by, but don't assume we'll handle it all; take five minutes to talk through a plan!
Reach Outside the Taproom: Promote during and after!
If you truly want to maximize your ROI, don't stop promoting once the musician starts playing.
Be sure to take videos and pictures of the musician and the crowd enjoying the day.
Videos are most likely to be shared which extends your reach to those who didn't make it out to the taproom. And those folks won't want to miss your next event!
Remember that t-shirt you were going to give the musician? I know if you gave it to me ahead of time, I'd be sure to wear it, and your logo would be prominently displayed in all the pictures and videos.
And…Don't forget to tag the musician in all those posts!
Remember, this should be a symbiotic promotional relationship. Both taproom and musician should benefit from the event. Most importantly, your customers should have a great time!
In closing, a big thank you to taproom owners and managers for supporting us musicians. We look forward to helping you sell your delicious beer!
Cheers!
Matt "the Sax" Beaudin is a full time marketing professional and part time musician. His act includes acoustic guitar, vocals, and saxophone and he has been featured in 8 different Northeast brewery taprooms this year. His desire to support local breweries and drink fresh beer has brought him to many more than that.
If you want to contact Matt, drop him a line at matthew.s.beaudin@gmail.com.
Yours in Taproom Music,

Kary